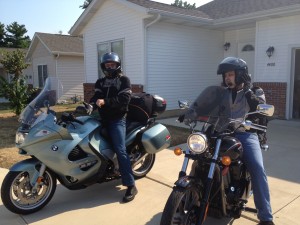 It was another year (2012 for those keeping track).  A new opportunity arose to propel myself through states I had never been to in a flurry of two wheeled mayhem.  My best friend Dave of entirely too many years to count (it's more than 20 okay) suddenly took up another new job after only being in Illinois for a year.  The new target: Texas.  I grasped the chance and held on.  After a couple months of planning I found myself in Illinois extra late at night, ready to hit the road at some too early time the next morning.
We got up, prepared our gear, put air-conditioned shirts on (just wet shirts you wear under everything else) and got started as soon as possible.  With weather in the 90's and up the entire route, we knew that  fatigue would settle in quickly, so earlier the start the better.  July is certainly no time to try and traverse the mid-west, but that's when the plan came together so we had to press on.
The road to St. Louis and heading west was uneventful.  The bikes hummed along at a brisk pace, trying to outrun the humidity and the heat.  The BMW K1200GT I was borrowing of my buddies cruised right along.  With such things as cruise control, adjustable windscreens and seat height adjustments, this bike was ready to haul ass down any road you laid in front of it.  The goal for the first night was Branson, MO.  This was labeled as the "Las Vegas of the mid-west!".  Needless to say, it wasn't, but we'll get to that.  A quick stop at lunch I asked if we could stop at a White Castle for burgers since I had never been to one.  Dave begrudgingly agreed.  Only after I had consumed 6 of these little mini burgers and started to head out did I realize this was the wrong approach for too hot of a day.  Most of the way to Branson my stomach tried to strangle me.  It was worth the experience, but I can't say I'll do it again.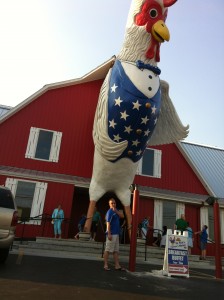 As we pulled south from Springfield, MO the weather got a little better and the scenery started to get more interesting.  When you get excited about a 100 foot hill, you know you've been in the plains too long.  By the time we hit Branson, we were wiped.  While cruising into town it looked as though everything was in a state of demolition or reconstruction.  Many places to stay were being demolished or were closed for unspecified reasons.  Given all of this, it took us almost an hour to find any place to stay at all.  In the heat and on hot bikes with gear, this was torturous.  We got into the room and basked in the cold air, unable to move.
Once revived we walked to a place I had scoped out called The Rowdy Beaver.  According to their website, they were rich with beer and live music options.  When we got inside it was like a ghost town.  A couple tables up near the stage were occupied, that was all.  Upon claiming a tall table to ourselves we inquired about beer options and found the only suitable beer for two beer snobs on the road was a Fat Tire pale ale.  This was brought to us in a little bucket with Bud Light written on the side.  We commented on the "bucket" which the waitress claimed was a proper pitcher in an offended tone.  Oh well.  Drink, eat, wait for this show…which ended up being the owner of the place, and some of his buddies.  They proceeded to tell middle school quality jokes and play some sort of music that I don't care to recall.  Overall it was quite entertaining, but perhaps not for the reasons they intended.  We took our leave and wandered around the town a little (you just have to take pics in front of the 3 story high rooster after all), then crashed for the night.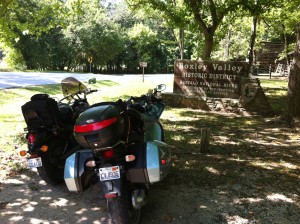 The next day, we were up and rearing to go, but the town wasn't ready for us.  We waited around for the only coffee shop to open well after 8, packed up, gassed up and headed out.  This was going to be the best riding of the entire trip.  Just south of Branson, the Ozarks spread its inviting arms out to us.  After a few course corrections on the way down to the national forest, our bikes plunged in.  The countryside was dry, but still amazing to view with oaks and fields of grass stretched out across rolling hills with very little in the way of civilization to be seen.  The bikes hungrily ate up the curves and the seemingly cooler air.  We made a pit stop at a historic shack (Boxley Valley Historic Site) without cell service or facilities.  The dirt floor shack had been supposedly lived in until a year much more recent than either of us would have imagined.  The bushes provided relief and we carved the rest of the delicious roads until the lunch stop at Clarksville, AK.  Learning from my mistake of the previous day, a neutral lunch of Subway put both of us back on the road in sedated comfort.
We continued hauling butt due west as we headed into Oklahoma.  Let's just say that the weather didn't improve as we continued into the deep plains.  Our "air conditioned" shirts were drying out after every 30 minutes and we were challenged to keep from overheating every hour or so.  Ice filled water bladders on our back helped to a point, but nothing seemed like enough.  It's amazing that 80mph on a freeway and yet it's still so damn warm!  By the time we hit our stop for the day, we were crispy.  The lodging was extremely expensive in Nowheresville, OK (Durant? I think it was).  The reason given to us was that there was a casino or two nearby.  It must have been quite the attraction as the WalMart and trailer parks our hotel was next to didn't really match up with the rates.  Showers, dinner (surprisingly good hibachi grill), decompression and hit the sack.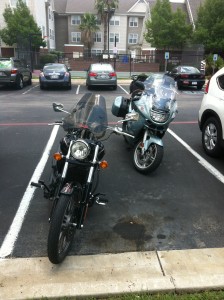 At the dawn of the new day, we eat and headed out as soon as we were able.  There was a lot of slab to cover and the earlier in the day the better with this stagnant heat people called air around there.  The ride plowed on forever.  As we entered Texas, the speed limits increased even more.  Riding along at 80-85mph in a 75mph zone felt like nothing.  Not only were the roads straight and boring, but the F-350 quad-cab pickups passing us while going those speeds made the entire experience surreal.  It's hard to keep the mind from wandering too much on the slab.  Keep stretching, keep going.
A quick Subway lunch in Plano, TX, with ice water again in our water sacks and we plowed the rest of the way into Austin (Pflugerville to be precise).  One bit of quirkyness in Texas was the vast quantity of frontage roads near the freeways.  All of them went one way and if you didn't get off in just the right manner you could end up circling around for quite a while.  Or better yet getting forced onto a toll road.  After navigating around some of these, we finally made it to a place to crash for the night.  Once again we came in earlier than anticipated, which is a great thing because the next day was consumed with a torrential rain shower in the afternoon.
The next day ate itself up with getting the bikes to a temporary resting spot (storage) and touring around the town, which seems to be obsessed with both music and bars.  Not a bad combination, but wow, what quantity!  As I left on my flight back to Portland the next day I relived the great experiences we had across the mid-west.  I can't say that it was all roses due to the ultra straight and flat riding complimented with humid, stagnant, hot air; however the highlights of the Ozarks and the sights of states I may never see again make it so worth the trip.
May the adventures, be ever in your favor.
Ben